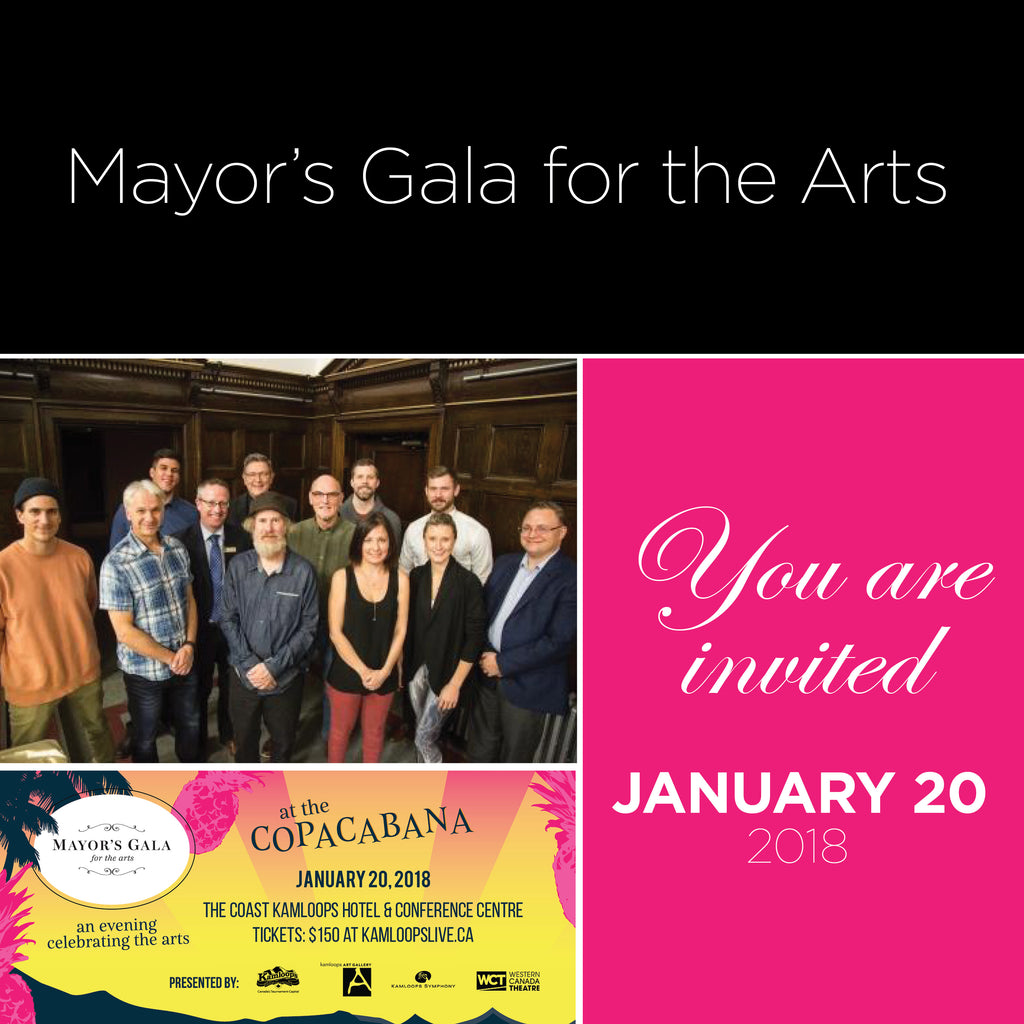 You are invited!
Mayor's Gala for the Arts Award: Visual Arts
When: January 20, 2018
Where: Kamloops, BC (The Coast Hotel & Conference Centre)
Hey guys!
I am super thrilled to share with you that I've been nominated for the Mayor's Gala for the Arts - Artist of the Year Award: Visual Arts.

A selected committee reviews all nominations put forth, and only three of these nominees are selected to go forward to this gala event held once a year. Mayor Ken Christian presents the award to the chosen winner. Each year, a different category of the arts is celebrated, for example, theatre, music, performance, and this year happens to be visual arts!  

Join me and the 300 plus attendees as we celebrate the importance of the arts and how arts and culture shapes our community and influences our lives.

I feel I have already won, just by being nominated. I am humbled to be sharing the stage with these two other accomplished artists in the category: 

David Langevin
I have known David for a few years and have always been in awe of his work. His distinctive landscape paintings are captivating, to say the least. I admire his techniques on the use of light and gorgeous vibrant colours.  

Don Lawrence
I first met Don shortly after the moment when I chose art and design as a career. Don is on faculty and teaches in the visual arts program at Thompson Rivers University in Kamloops, BC. TRU was just the beginning for me, where I first learned the many techniques of drawing, sketching, lithography and photography.

I am honoured to be called an equal among this amazing talent!
 
Join me on January 20, 2018.
It will be great fun!
This years theme is 'Copacabana' and how fun is that!!  :)

Sincerely and with love,
Kristina Benson
 
For more information: www.mayorsgalaforthearts.com
For tickets: $150 at www.kamloopslive.ca
Read press article on KamloopsBCNow.com: 
https://www.kamloopsbcnow.com/watercooler/news/news/Kamloops/17/11/28/Here_are_the_finalists_for_the_Mayor_s_Gala_for_the_Arts
Photo credit: Emily-May Photography.